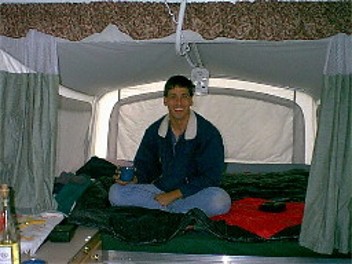 My husband, Blaise, celebrating our Coleman purchase on our first trip- Townshend Vermont- Camperama Camp Grounds, September 15, 2001.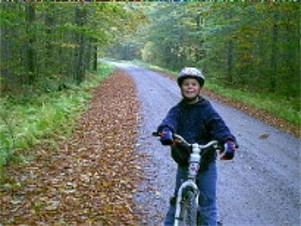 Darlin' daughter Jocelyn, bicycling in the snow, in Ripton, Vermont, October 7th, 2001. Right after this pic was taken, it started to snow heavily and we had to get back to the warmth of the camp. Boy, did soup taste good that day!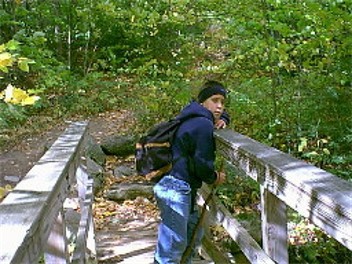 Our 11 year old son, Matt, on the trail to Silver Lake and the Falls of Lana in Salisbury, Vermont. Even though he's not *smiling*, the kids had a great time camping and were happy to be off the cold, hard ground.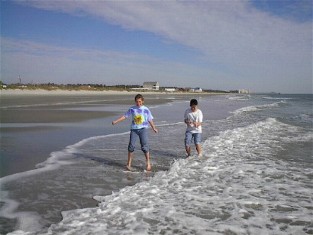 On the sand at Myrtle Beach, December 27, 2001. This was a nice warm day.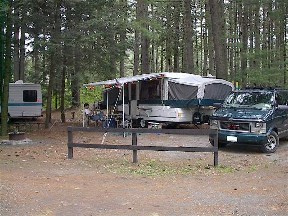 Maiden Voyage of the Utah
Memorial Day Weekend- Rancho Pines Campground in Chestertown, New York.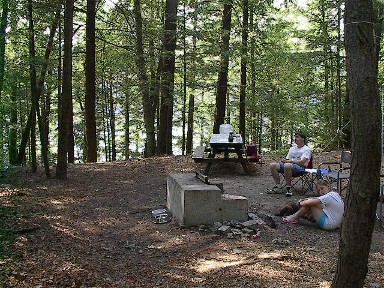 Our site at Lake Luzerne State Park was on a hill. Where it drops off is where it goes down to the lake. The view was spectacular and it was like camping alone in the woods. So far, it's probably our favorite site.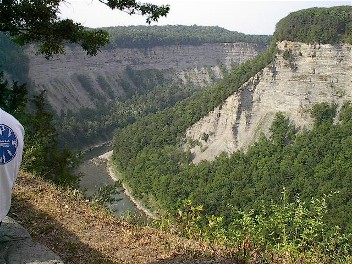 One of many great vistas at Letchworth State Park. We can't say enough about this trip. It was great!
December 2002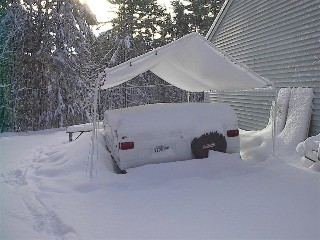 12/26/2002- Glad we didn't plan to go on any trips the day after Christmas...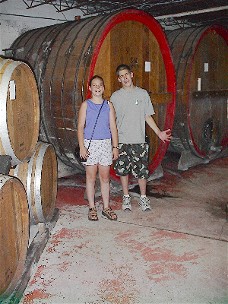 Matt and Jocelyn in the wine celler at Wagner Vineyard, Lodi, NY. They liked the big barrels..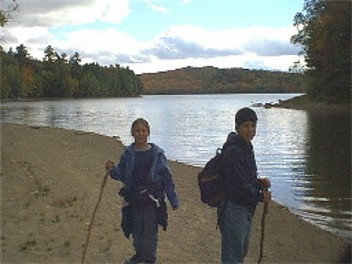 Matt and Jocelyn on the shore of Silver Lake, Salisbury, Vermont. This is a fairly desolate lake , with no main roads, or even paved roads, to take you to it. We hiked up from the main road, passed the Falls of Lana and then went on up the mountain to Silver Lake. It was amazingly quiet and really beautiful.

This is the reason why we already love our Coleman Sedona so much. We are a hikin' and bikin' family and having the camper frees up our resourses to make more frequent trips. Camping is THE way to go for family fun!!!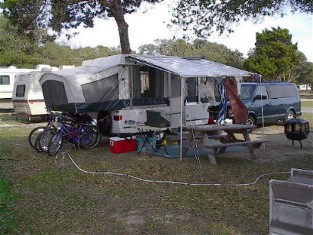 The Sedona set up at Lakewood Campgrounds in Myrtle Beach, SC. The sites are a bit on the tight side, but we had a very nice time.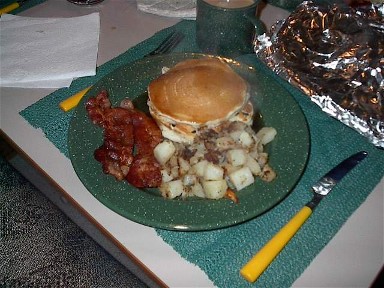 A typical camping breakfast- pancakes and either sausage or bacon and potatoes. We love to cook and probably have some of our best meals while camping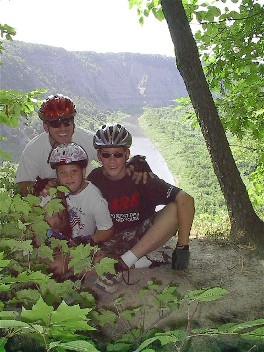 Blaise, Matt and Jocelyn all on the banks of the canyon at Letchworth State Park. This is definitely a trip we are making again.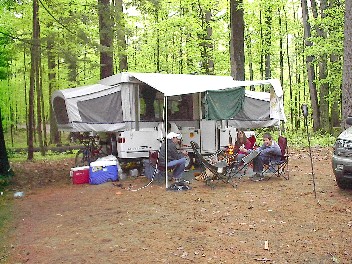 Sis Gina's site at Sacandaga (Wells) State Park- site 85. The kids hung out at her site a lot and had a blast. It's great to have another family member popping up!
Matt picked up some trail rash at Moreau. He also scared the heck out of another park visitor that thought he was seriously hurt. Luckily, he knew enough to head back to the site and get it cleaned up. His buddy Cameron helped out with a nice duct tape bandage..