North-South Lake, Haines Falls, NY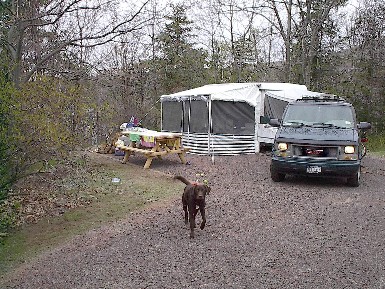 First trip of the year- May 7-9. We camped with several members of COTOC. It was a great trip and the park is wonderful-definitely one we will be returning to.
SacandagaState Park, Wells, NY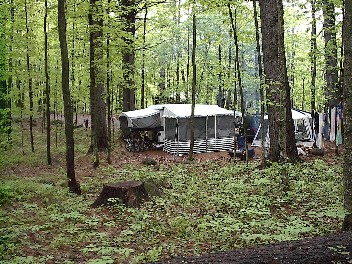 Memorial Day Weekend- Wells, NY. A very wet weekend, but we ate very well. The sites are generally very large and wooded. This site was a short walk to the Sacandaga River.
Forth Lake, Lake Luzerne, NY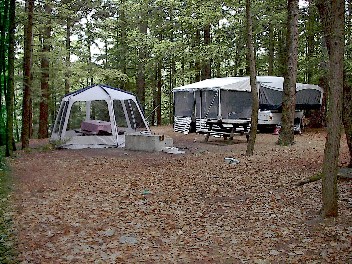 Our favorite site- 81. You could fit two campers on this site with plenty of room to spare. We celebrated Blaise's birthday here. The weather was so-so, but it was quiet. They put down cedar chips on the site, which makes it smell wonderful.
Sacandaga State Park, Wells, NY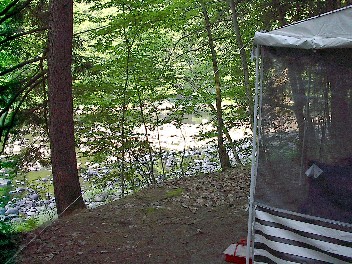 July 4th, 2003- The view from the door of our camper- the Sacandaga River. This was a different site from the one we had Memorial Day and it was wonderful. The kids tubed down the river. The weather was hot and humid that weekend, but we celebrated Matt's birthday with great food and lots of fun.
River's Bend, Middlebury, VT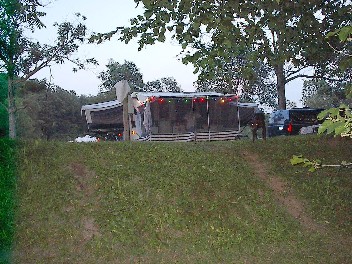 This is a lovely private campground just outside of Middlebury, VT, directly on the Otter Creek. The sites were grassy and kind of open. The owners are great people-very friendly. The kids again tubed and canoed the creek. The weather was great until the last morning there.
Ferenbaugh Campground, Corning, NY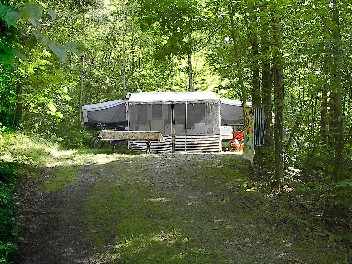 July 18-21, 2003- A last minute trip out to the Finger Lake Wine Festival resulted in our staying at Ferenbaugh camp ground. This place has great sites set on a hill side that are wonderfully shaded. The fire rings were holes dug in the ground and surrounded by field stones- they are beautiful. We already have reservations for next July.
Jellystone, North Hudson, NY
August 8-10, 2003. We brought Joci and her friend to Jellystone to celebrate Joci's 10th birthday. here, Yogi delivers her brithday cake and some gifts. The kids had a blast at the park, tubing the Schroon River and enjoying a Halloween in August, complete with trick or treating, a haunted house and haunted forest.
Letchworth State Park, New York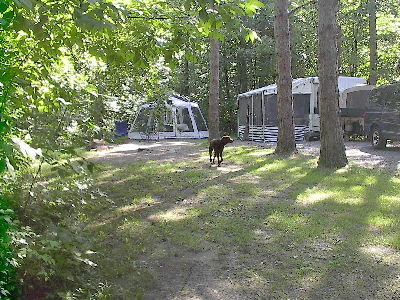 Site 231 at Letchworth State Park- our favorite trip. It was great again this year, with superb weather. If you get out to the Letchworth area, stop by the Farmer's Daughter farm stand, on the road to the dam. They grow the sweetest corn I've ever tasted.