Camperama CG, Townshend, VT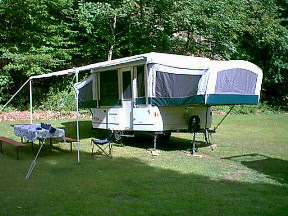 9/15/01 We stayed for one night at Camperama Camp Ground in Townshend, Vermont. This was our test run to see how we handled the camper. We didn't take our two children, just to be safe. First, we realized that we used too much wood to level the unit, but I wanted to be off the road as much as possible and the ground went up back there. But the unit was very stable and surprisingly comfortable. We used a small electric heater for over night, since the temp. dropped to around 30 degrees. It kept us quite toasty. So, we knew we were ok, without a furnace. The electric heater also helped to keep the dampness down. The refrigerator worked wonderfully. We kept a bottle of wine, some cheese and our breakfast food in it without any problems. At this point in time, we didn't have the porta potty yet, but this was the trip that made the decision. It was a good walk to the restrooms.

Our travel goal....
Napa Valley, California
Yellowstone
Acadia National Park, Maine
Smokey Mountains
Sedona, Arizona
Colorado- Rockies!
Lake Luzerne (Forth Lake) State Park, NY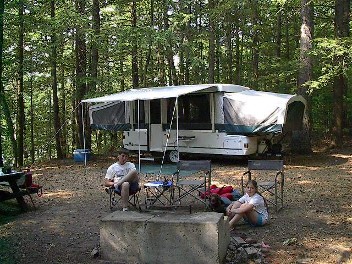 Lake Luzerne State Park- 6/02.
This was a HUGE and beautiful site. It overlooked the lake and was very nicely shaded. We were basically by ourselves. The only other site on the hill was vacant until later in the weekend. We definitely plan on reserving this site again.
Letchworth State Park Site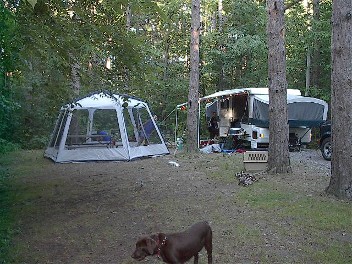 This was our site at Letchworth State Park. The sites themselves weren't overly big. The first night, there was another Utah in the site next to us, but they left and we had no one in that site the rest of our trip. On the other side of us was woods and the next site was down the road a little farther. So this is a site we would take again.
Jellystone- North Hudson, NY- Jocelyn got her birthday cake delivered by Yogi. The kids had a blast at the park, even thought the weather wasn't so great.






Kampersville CG, Lake Dunmore, VT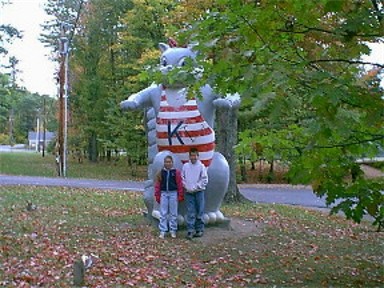 10/5/01- 10/08/01 The big first long camping trip. We stayed at Kampersville in Salisbury Vermont. This was a 3 night stay for Columbus Day weekend. On this trip, we were expecting snow and freezing rain, so we purchased a second electric heater to put at the other end of the camper, to keep the kids warm. The first night, we didn't need any heater at all. The temp. only dropped into the 40's. The second and third night , we used one heater for the entire night and we all kept fairly warm. The outside temps. dropped into the 20's. We were a bit chilly the last night and we woke to snow coverd trees on our site. I did lots of cooking and the refigerator, again, held up wonderfully. The porta potty was installed earlier in the week and it came in handy. I'm glad we decided on that purchase.
Lakewood CG, Myrtle Beach, SC
Lakewood Campground, Myrtle Beach, SC
As you can see from the picture, the sites tend to be a bit narrow. Fortunately, for us, we had a large travel trailer in front of us, because they ended up being a very good wind break for our site. We were one of only 4 pop ups there over the Christmas/New Year's week.
Rancho Pines CG, Chestertown, NY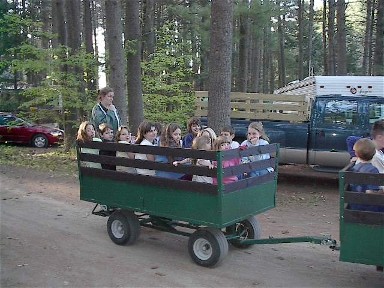 Rancho Pines- Memorial Day weekend 2002....our lovely daughter Jocelyn on a hayride with some of the other children from the campground.
Wellsley Island CG, Alexandria Bay, NY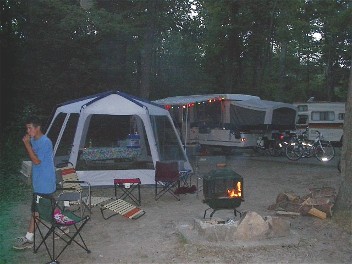 Wellsley Island- July 2002-Hot and humid trip. Probably not one we will repeat anytime soon. We may try Robert Moses State Park instead.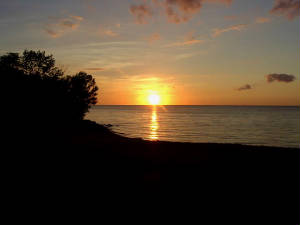 Sunset over Lake Ontario- not much more I can say about this. August 2004 at 4 Mile Creek State Park. We had one nice clear night for a sunset and we got a spectacular show.